i know i just posted, but i haven't posted here in a while, and have a bunch of stuff to show off, so i'll do a couple of posts, because i know how annoying it is to be on a slow connection and be trying to look at a post with a ton of pictures.

this is a bunch of paper craft type stuff i've done lately, lots of mail stuff since it seems that everyone i know has moved away... not really, but it feels like it. damn going back to school!


i made two of these matchbox things, i was inspired by the tutorial here -http://www.lisavollrath.com/articles/042.html.
i based mine on the 4 box drawer, but i did 8 boxes to make it bigger.

this one is coated in duct tape. i used silicone sealant to glue everything together, i didn't know what else to use on duct tape! i fooled around with a picture of my friend in photoshop, and then taped it on. i added the label with her nickname, so it totally fit the picture where she was showing off her ass.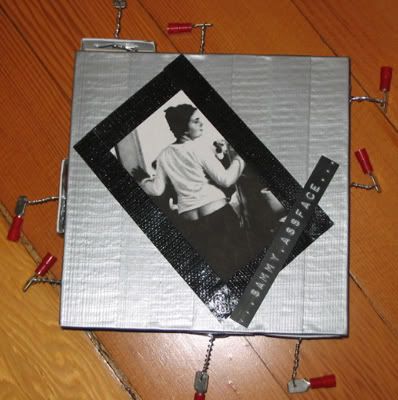 all the drawers open. i wrote letters on long skinny pieces of paper, then folded them up and numbered them and put them in the drawers. a filled a couple of the drawers with little toys.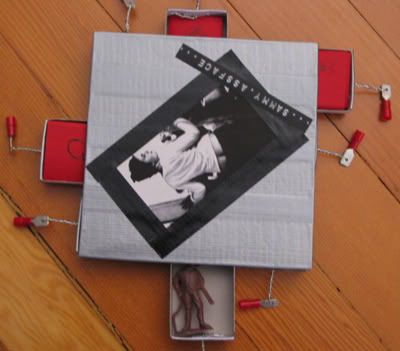 i used wire and electrical components to make the handles on the drawers.




this one was the first one i did, and i used some expensive stamps that i'd bought at a stamp party to decorate it.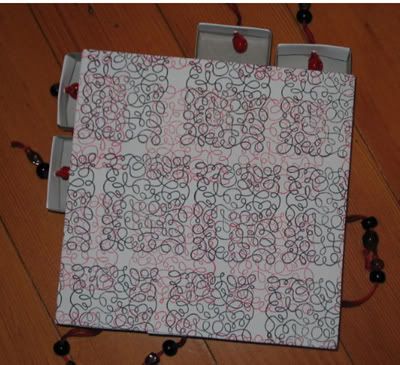 i used embroidery floss and beads to make the drawer pulls on this one, they looked so pretty. i used red beads on the iside of each drawer too, to keep the cardboard from ripping. i stamped the ends of the drawers simply by pressing them onto the stamp pad, i like the way they turned out.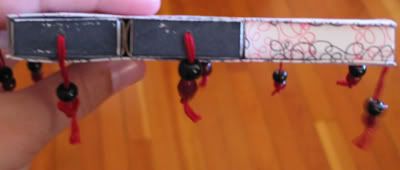 a close up of the stamping i did.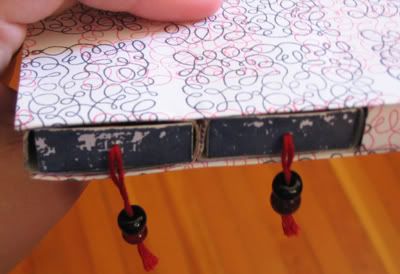 this was also inspired by the same website, the tutorial is here - http://www.lisavollrath.com/articles/039.html

personally that one isn't my style at all, so i just went with the idea. i left my coffee filters plain, and used these cool little book screws to put it together. this way, you could take the book apart if you wanted to watercolour on some of the pages. you can't write on them with pen, but the filters are so thin that you can write on a piece of paper, put it into the little pocket, and read it through the filter.

for the cover i used posterboard, but i covered it with a photocopy of some tweed fabric i have, the back is what the tweed actually looked like copied, and the front is a reversal of the tweed photocopied.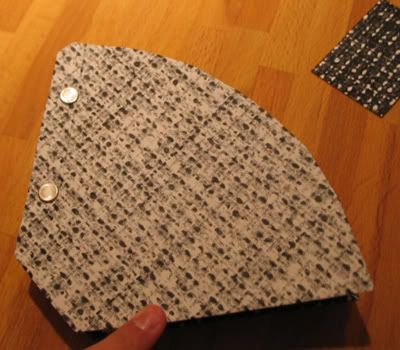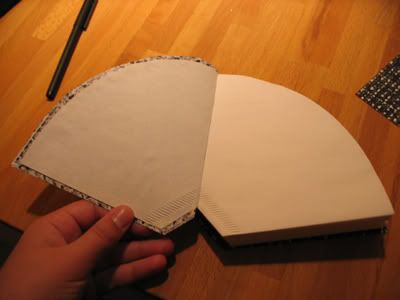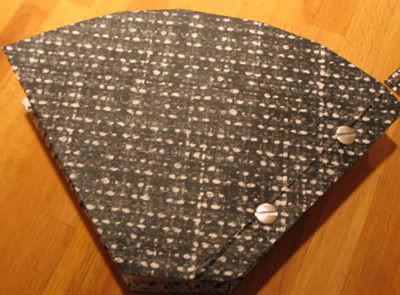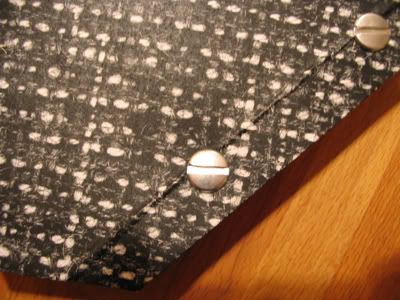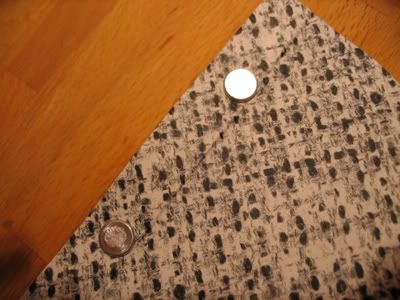 this is a postcard i sent a friend, the flower is from a piece of vintage fabric that i photocopied, then i covered the rest of the card in big pink glitter and put clear contact paper over it so the glitter wouldn't fall off in the mail. i miss doing fun postcards, i used to do them all the time. the best ones i've ever done were the toaster (when a friend slept with a "straight" girl) and a snowglobe of vancouver where the snow actually fell when you moved thecard.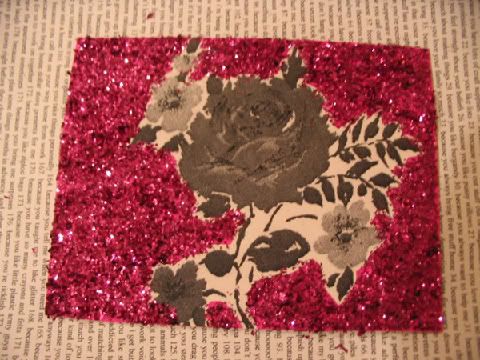 this is a letter i wrote, once again using photocopies of vintage fabric to embellish it.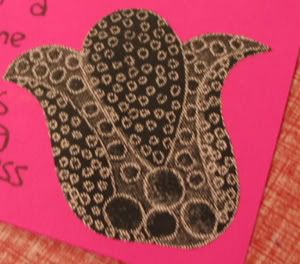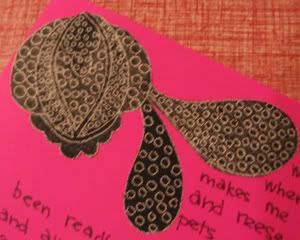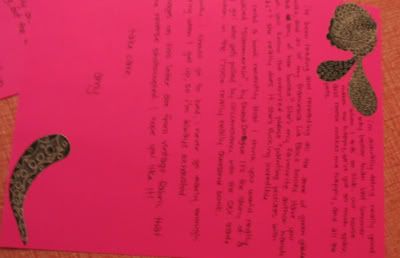 and this is a very simple card i made for a friend's birthday, in about 15 minutes cause i was late! i did the writing with my label maker, screwed the picture around in photoshop and used the lacing to hold the picture on. no glue required! i'm totally obsessed with putting grommets on things right now.