this is my first attempt at felt flowers, which i'm quite proud of and the wedding dress i made for my upstairs neighbour, which i'm also quite proud of.



i made felt flowers for
impishremorse in exchange for copies of her alice in wonderland colouring book. a very good trade in my opinion, i hope she liked the flowers! (and i hope she got the package already, or else i'm ruining the surprise!)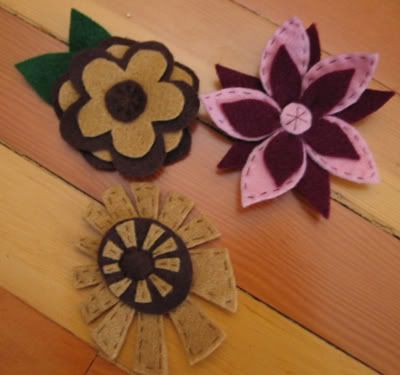 the first three i made, in colours she said she liked. i ended up keeping the art deco-y looking one, because it was less "flowery" and i didn't know if she would like it, but also because i loved it.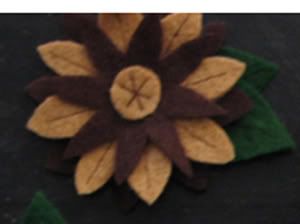 and the fourth one i made. i like the stiching on all of them with contrast thread. i don't know if you can see that the leaves have veins stiched on them with lighter green thread as well.

this dress i made for my upstairs neighbor, she and her partner got married in our backyard in july. it was originally going to be the wedding dress, but a week before the wedding she decided that she'd been deluding herself, and she really did want to big white wedding gown. so she bought a wedding gown off the rack somewhere and wore this for the dinner after the wedding.



she wanted something very simple, just delicate and pretty, and she looked through tons of fashion/wedding magazines and pattern catalogues and couldn't find anything. she ended up finding a picture in a gardening magazine where a woman was wearing a dress like this, and we just lowered the neckline and back and made it up as we went along.


i didn't use a patern, because she's so tiny (very typical japanese body type), i thought it would be more hassle to make the pattern fit her than to make it myself. i made a couple of samples before i made the dress.



i learned how to do invisible zippers for her dress, and now i wish i'd learned years earlier! they are so easy! with all the samples i made, i'm now a master at invisible zippers.



it was lined entirely in cotton fabric, because the gauze was so sheer. i was quite proud of how nice the lining looked.



a close up of the fabric, it was so pretty and such a good deal, $3 a yard, the lining ended up costing double that!



a better pic of the front, when it didn't need ironing as badly!



as pretty as the fabric was, it was a bit of a bitch to work with. i think if i did it again, i would have an underfabric that it was sewn directly to. the fabric stretched so much, that the lining didn't fit inside it at the straps, so we had to do an emergency fitting and then put patches in the straps so that it would still be fully lined!